Diagnostic Ultrasound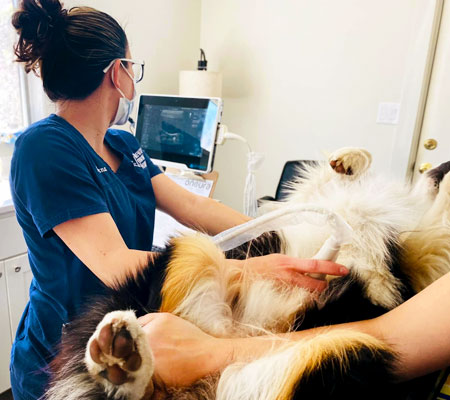 We are proud to offer ultrasound services to our patients as a comprehensive diagnostic tool. We are one of the limited veterinary offices on Cape Cod to offer these services right in our own hospital. We offer Global Fast Ultrasounds, Full Abdominal Ultrasounds, and Echocardiogram Ultrasounds.
Ultrasound imaging allows us to obtain real-time imaging of the body's internal organs and processes. With ultrasound we can visualize blood flowing through blood vessels, acquire measurements of organs, and recognize any abnormalities that may be present. The ultrasound transducer sends sound waves into the body and records waves that echo back, providing detailed images of internal organs. Unlike x-ray, there is no radiation exposure associated with ultrasound imaging. All ultrasounds performed at Brewster Veterinary Hospital are submitted for review by a board-certified veterinary specialist to ensure the most accurate interpretation. We receive a comprehensive report that helps our veterinarians recommend the best possible treatment for your pet.
Global Fast ultrasound is a targeted technique that evaluates 17 points across the abdomen, lungs and heart. It is a brief, non-invasive procedure that usually requires no sedation or shaving and provides point of care diagnosis for disease processes, trauma, and other areas of concern. Global Fast imaging is recommended for both routine screening for senior patients or pre-surgical evaluation, or for emergent and critical cases.
The full abdominal ultrasound includes an even more comprehensive assessment of the abdomen, with thorough evaluation of all the organs, including liver, spleen, stomach, kidneys, adrenal glands, pancreas, bladder, and intestine. This procedure requires shaving of the abdomen and usually also requires sedation to help your pet remain still and relaxed during the study.
An echocardiogram is an ultrasound of the heart that allows us to evaluate the chambers, blood flow, and valve function of the heart, providing detailed diagnosis of a heart murmur or cardiac disease. During an echo we also take measurements of the heart to assess cardiac impairment. Echocardiograms usually do not require sedation of the patient. We are pleased to offer this service for our patients as it provides faster diagnosis and treatment for patients with heart disease.
At Brewster Veterinary Hospital we strive to provide the best possible standard of medical care for our patients. Our ultrasound services help our patients and clients avoid the stress, time, and cost of referral to specialty facilities while providing the same quality of care.