Brewster Vet Diagnostic Services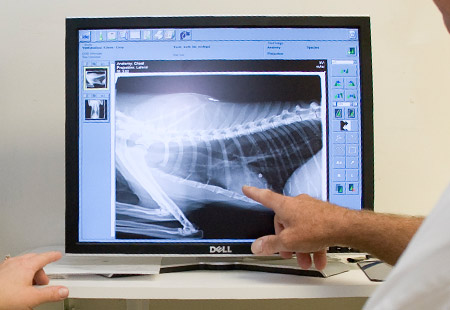 Digital Radiology
Radiographs, also known as X-rays, are one of the most common and useful diagnostic tools in medicine. At Brewster Veterinary Hospital, we use X-rays to examine your pet's bones, lungs, heart, abdomen, oral cavity and other areas for diagnosing and monitoring medical and surgical conditions. If we suspect your pet has a fractured bone, has swallowed a foreign object, or is suffering from a heart problem, an X-ray can tell us what we need to know.
To provide you with the highest quality veterinary care for your pet, Brewster Veterinary Hospital has invested in a state-of-the-art digital X-ray machine. There are many important advantages to digital X-rays:
They are immediately able to be viewed on a computer monitor.
The clear, detailed images can be manipulated to get a better view of your pet's bones and internal organs, leading to a faster and more accurate diagnosis.
They take less time to process, which means less time for your pet on the X-ray table (and less stress), and less waiting time for you.
No harsh chemicals are needed to develop the images, reducing potential harm to our staff and the environment.
If a second opinion is necessary, digital X-rays can be sent by email to a specialist.
Advanced diagnostic capabilities are an extremely important part of veterinary medicine, in part because we can't simply ask our patients what is wrong. Our investment in digital X-ray technology reflects our commitment to offer you and your pet the best, most comprehensive healthcare available.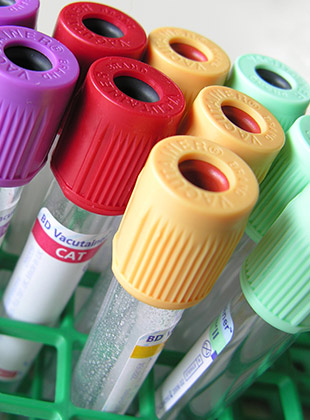 In-house Veterinary Laboratory
Brewster Veterinary Hospital has a full service diagnostic laboratory that allows us to perform complete blood counts, chemistry profiles, electrolytes, urinalysis, fecal exams and cytology evaluations. With our advanced laboratory, we have the ability to analyze how well your pet's internal organs and processes are functioning. We also have the ability to perform a number of specialty tests, including a 4dx snap test, FIV/FELV snap tests, CBC and Chem with Lytes.
Laboratory testing provides information about your pet's overall systemic health without the need for invasive and expensive procedures. Therefore, Brewster Veterinary Hospital maintains a complete in-house laboratory and regularly tests your pet during wellness exams or when we suspect your pet may have a health issue.
If your pet needs additional diagnostic testing, our hospital works closely with several outside laboratories with many results available the next day.
Endoscopy
Brewster Veterinary Hospital has an established partnership with Veterinary Associates of Cape Cod. We are able to offer full endoscopy services at that facility. This includes flexible endoscopy, as well as a full portfolio of laparoscopic surgeries such as spays (e.g. OVE), gastropexy as well as exploratory surgeries.
Endoscopy is a minimally invasive diagnostic procedure commonly used to evaluate the interior surfaces of your pet's organs through a small tube inserted into his or her body. An endoscopic examination can often accurately diagnose what is causing your pet's vomiting, diarrhea, weight loss, abdominal pain or swelling, loss of appetite or respiratory problems. It can also be used to collect biopsy samples and remove foreign objects, small polyps or tumors.